One Day in Joshua Tree
A desert is a place without expectation. – Nadine Gordimer
I finally took the time out of my busy schedule to visit Joshua Tree National Park!
With just one day to get a feel for the park, my friend Nicole and I took to the pages of Outdoor Blueprint, and found a great itinerary by Brian Eagen. I have heard of so many people traveling to Joshua Tree, but why?
I will tell you (and show you) just why this place is a must see spot for Californians and out-of-towners alike! Photos at the end!
The Desert Modern Architecture
When you pull off the 10 freeway and into the abyss of the desert you think all you will find are hillbillies and broken down trucks on the side of the road. While you will see plenty of that, the main street that you drive through is decorated with artsy buildings, murals, antique shops, coffee houses, and really eclectic, desert style architecture. Many of the houses along the road into the park were "desert modern" while some were more "cabin in the desert."
Easy to Navigate
We chose to diverge from the itinerary just a bit, and enter through Joshua Tree Visitor Center rather than the Cottonwood Visitor Center. If you plan to visit, they have maps at the entrance or you can download it here. There is usually a $25 entrance fee but it was waived this weekend because of Veterans Day. The signage, the map, and our print out from Outdoor Blueprint were more than sufficient in guiding us through a day of stunning landscapes and overcast skies. Throughout the park there is plenty of parking, and the trails we took were very clearly outlined and easy to see.
Natural Xanax
The people visiting Joshua Tree are a special kind of human beings. There were so many smiling faces, and so much peaceful energy. I lost my pack tissues along the Hidden Valley Trail. A sweet lady had found my tissues, and she pulled up in her car to give them back to me!
Nicole & I found ourselves doing yoga poses on rocks, cartwheels in the street, and walking in a soothing silence that only the desert could provide. There was no cell service in a majority of the park, even with Verizon! So naturally, we paid more attention to the natural wonder that was all around.
Cacti
I just love cacti. Maybe it's that my grandparents front yard in the high desert was decorated with succulents and cacti of all colors. Maybe it's their dangerous beauty that draws you in, but keeps you out.
Or maybe it's because a cactus is the only plant I can keep alive.
Regardless, I had a enjoyed taking photos of the little cacti that were scattered through the park. I liked them more than the actual Joshua trees!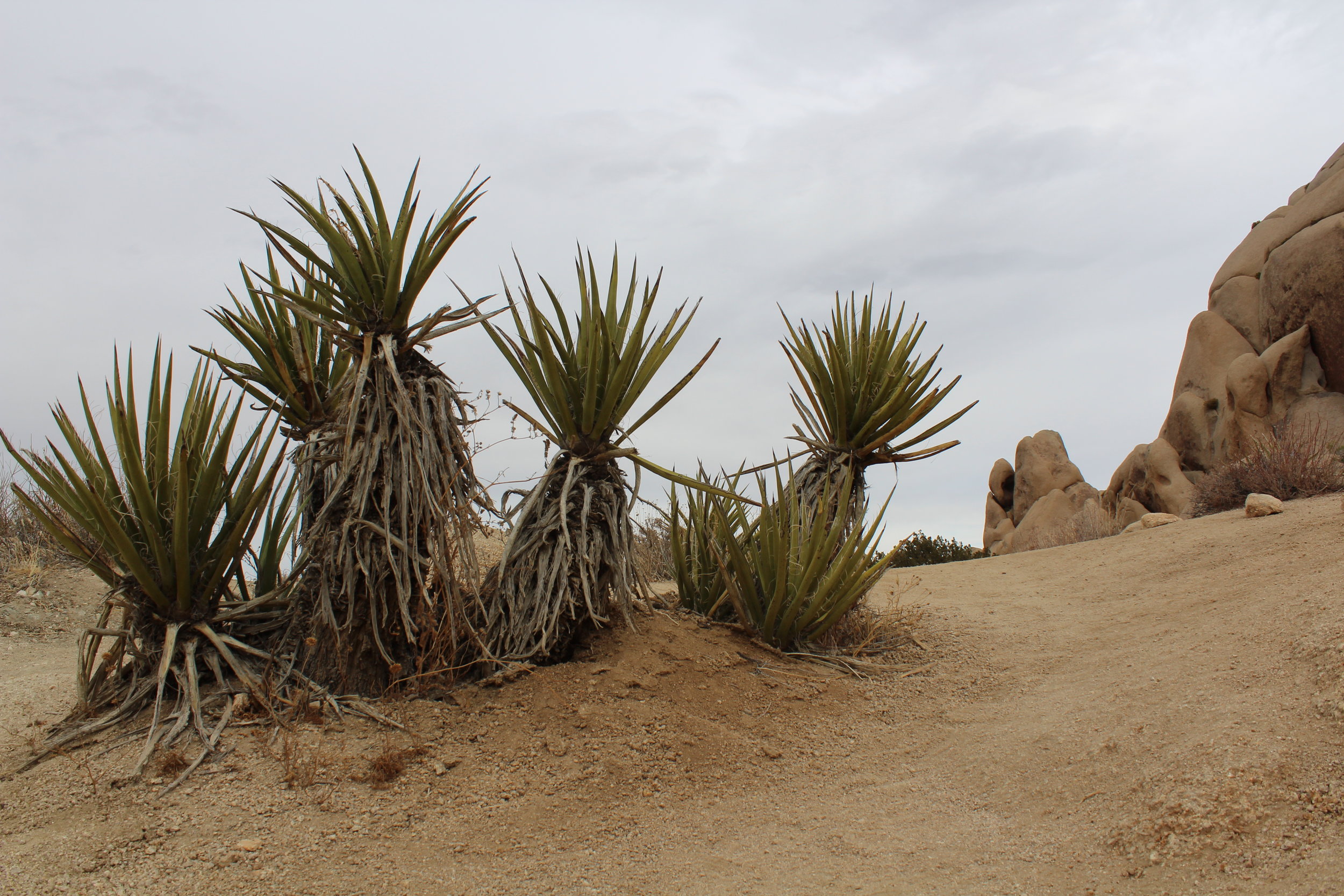 Keys View

We ended our day trip at Keys View, just 13 miles from Skull Rock. It was hands down my favorite spot of the trek. From Keys View you can see all of Coachella Valley. (Check out my post about working Coachella Music Festival this past Spring). Because we were tired, we decided not to stay for sunset. We did not expect to drive as much as we did. Each destination was a 5 to 20-minute drive from the next, so your driving doesn't end once you enter the park. However, next time I come I will bring a blanket, some hot chocolate and watch the sunset from Keys View.
Today I was reminded me how small we are, and how expansive this world truly is. I felt a true appreciate for God's creation today. I got to appreciate life in California, and experience a wonderful day with a wonderful friend!
Have you ever been to Joshua Tree? Would you ever camp there?
Check out the parks calendar of events to plan your trip around a festival or artist meet up!